Cord Stock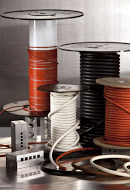 At OneMonroe, we offer a wide selection of cord stock to meet the unique needs of our customers. We can provide custom materials, lengths, and shapes to meet the specific needs of our customers. Our cord stock is used in a variety of industries, including aerospace, automotive, construction, and manufacturing. Our products are designed to meet the unique needs of our customers.
Our cord stock is available in a variety of materials, each offering unique benefits. Choose from materials like neoprene for excellent weather resistance, silicone for high-temperature applications, or viton for superior oil and chemical resistance. To assist in visual identification and aesthetic alignment with your machinery, our cord stock comes in a range of colors. From subtle black and white to vibrant red and green, we can provide a color that suits your needs. We also offer cord stock in multiple shapes to cater to different sealing applications. Whether you need round for O-ring creation, square for static seals, or rectangular for specific sealing applications, we have you covered.
Submit an RFQ to learn more about our cord stock and how we can help you find the perfect solution for your needs. Whether you need a single prototype or a large production run, we are here to help. Looking for more information? Take a look at our seal guides, seal catalog, and rubber application pages.
Are you looking for Cord Stock?
Submit an RFQ now!
Extruded Rubber Product Lines